PHIL: Best Episode Ending (Also, Best Musical Cue, Best Shocking Violence)
Game of Thrones S3.E3
Spoilers, okay?
I DON'T KNOW if it's because it's one of the only shows I watched weekly with a group of friends this year, but, while it's by no means the best show I saw in 2013 or even necessarily my favorite, I had more fun watching Game of Thrones than anything else. This season, much ballyhooed for its grim results, was outlandish fun to watch every Sunday. The season started slow, but after a little throat-clearing and scene-setting, it was firing off stupidly, grimily entertaining hours of television like it was nothing. And that's what was so fun about it. No one ever said adapting George R.R. Martin's mighty book series is easy per se, but with the existence of a master outline and thus without the necessary creative pressure to conjure the compelling narrative that befalls Gilligan, Weiner and the like, Benioff and Weiss are free to put all their weight into execution. (Pun intended.)
And this season had a kind of balls-out (pun intended again), punk rock energy hurtling, as it was, toward the biggest set-piece of the whole series so far. As is surely well-known by now, this was the long-awaited season of "The Red Wedding," the show and book series' center-piece purge of central characters that took place in spectacular fashion at the end of this season's penultimate episode. For all the rigamarole about how ingeniously the final season of Breaking Bad was conceived and plotted, imagine the challenge for Benioff and Weiss who had to plot out an ending half its fans already saw coming.
If I was making a list of the best episode endings of the year, "The Red Wedding" and its operatic bloodshed would certainly be on it. (Killing people on TV is a piece of cake, killing them with that much flair is quite difficult, I imagine.) As would the ending of the earlier episode "And Now His Watch Has Ended," in which Daenerys Targaryen frees the slaves, unleashes the dragon, and drops the mic. (I admit that I've watched the ending of that episode a number of times since, and it somehow still feels surprising and exhilarating.) But those weren't my favorites.
My favorite ending, the one that made me stand up in an ovation, the one that reminded me everything that's good about this show and everything it will willingly, blithely do, was the ending of this season's zippy, horrifying third episode, "Walk of Punishment." It's easy to forget that Jaime Lannister, the swashbuckling, sister-boinking, crown prince of jag-offs, has spent a majority of this series tied up and sitting on the ground. This episode, after striking up an unlikely friendship with Tilda Swinton's XXL body-double Brienne of Tarth and conning his captors out of beating and raping her, it looks, briefly, as if Jaime might get to stretch his legs a bit. Not so! His jailer tempts him to the fire promising a tasty dinner only to pin him to the ground, hit him with some class politics, and CHOP HIS HAND OFF IN CLOSE-UP! (The clip below is obviously NSFW.)
Like the great comic set-piece that this actually kind-of is, the scene is all about timing. It's dark enough that we don't immediately know what's happened, and because his hand is on a stump, it doesn't move quite enough to make it immediately obvious. What this means is that, for a few silent seconds, we — Jaime included — are staring at an amputated hand without fully realizing it. Jaime screams, the frame stays still so we can really take in the site of Jaime's stump — the bloodflow, like our attention, took a minute to catch up. The frame cuts to black, there's a pause, and then, thank you, Game of Thrones, a Hold Steady song starts playing. Punky, talky, anachronistic Hold Steady, singing some silly, made-up, quasi-medieval ballad. The scene is a tragedy (one of the show's most subtle achievements has been turning the villainous Jaime into something of a sympathetic hero) and it's a joke. Not a lot of shows (Top of the Lake is one of the few others) can hit the tragedy and comedy notes simultaneously and with as much follow-through as Game of Thrones, nor do many shows stick so many difficult landings. We've got a lot of this show yet to come, and this moment made me excited for every goofy, gory, heart-wrenching moment of it.
¤
AHP: Best Episode Ending (also Best Violence)
Rectify, Episode 5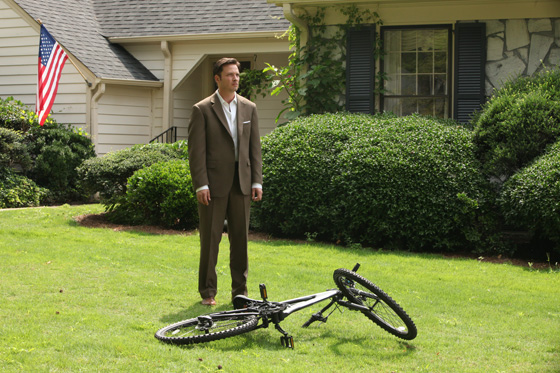 While others, including our own Jane Hu, were lauding the meditative beauty of Enlightened, I couldn't deal. My repulsion from passive aggressive characters (also, most notably, in Six Feet Under) probably says more about my personal failings in terms of sympathy and patience, but even if I couldn't stomach Amy Jellicoe, I loved the way Enlightened slowed itself down and considered the physical world. It wasn't like a hackneyed thriller, in which nature (a storm, the sea, the forest) becomes a character in and of itself; it was more subtle and ultimately more generous than that.
But you know what did that even better? Rectify. It debuted during a dry television spell and, as a result, received more attention than a small, six episode Sundance production normally would, but as the summer series picked up, it faded to the shadows. The premise itself is a tough one: Daniel Holden spends 19 years in maximum security after being convicted of the brutal murder and rape of his 16-year-old girlfriend.
He's released on appeal, and the task of reintegration into his very small, very Southern town is about as awkward as you'd imagine. But we experience that awkwardness not so much through weird interactions, of which Daniel seems blessedly ignorant, but his experience of the physical world. After 19 years in a cell, everything around him sounds, smells, tastes, feels more intensely, masterly refracted through the show's sound design and cinematography.
It's not, however, a loud show. It's defined by alteration between absence and presence, the long, weighted pauses as Daniel chooses and delivers his words, and a meditative embrace of the air and space and seemingly infinite choice that now surrounds him.
Indeed, Rectify is a quiet show, almost therapeutically so. What some might call "boring" I find hypnotic and, somewhat ironically, magnificently tense, in part because you're also spending each episode pondering whether this seemingly gentle man was, and remains, capable of great violence.
Which is what makes the sudden and surprising violence at the end of the penultimate episode so stunning – and so weirdly, if temporarily, gratifying, especially since it seems to both enact pain on a malicious character and answer our questions about Daniel. The episode ends on a long shot, our characters in silhouette, which functions to imprint the outlines of the violence and its ramifications in a way that a close-up cannot. It's removed, observatory, much in the way that Daniel attempts to confront the world at large. And it's absolutely chilling.
The next episode revises much of what we thought we understand — about Daniel, about the violent act itself — but that moment stays with me still, a crystallization of how television narrative, and the spaces and pauses and ruptures within, can still surprise us.
¤
Lili: Worst Episode Ending
Top of the Lake Finale
I often think of Top of the Lake as the underbelly of Northern Exposure, a show for which I have a major soft spot while lamenting its habit of turning an indulgent eye to the really weird things that happened to its female characters. (It's narrated as merely idiosyncratic, for instance, that Maurice Minnifeld plucks a teenaged Shelly Tambo out of a beauty pageant that he's judging because he is "in love".) Both shows are in dialogue with a kind of frontier narrative: they depend on intense isolation and a de facto lawlessness deemed humane and productive in Northern Exposure — the way things ought to be — whereas in Top of the Lake it becomes a kind of rape-engine whirlpool under a still surface.
Regarded as a nature-based dystopia (as opposed to the sci-fi versions with which we're routinely bombarded), Top of the Lake was gorgeously dark. That initial shot of Tui waiting for the lake to kill her captured how, in a universe constructed along these lines, women come to understand that danger resides not just in violence but also in inertia. (This is the crux of Robin's distrust of Johnno, and for Tui, pregnancy and the lake amount to the same thing: destruction through passivity.) As it happens, the only person who actually dies in the lake is a man — and he's murdered by the show's main active principle, Matt Mitcham.
There's something wildly mythic about ToTL, in other words. These are not ordinary people; there could be an Iliad about the events in Laketop. They are not immune to archetype. Nevertheless, the miniseries achieved a remarkably delicate balance: it staged a complex and fatally intimate psychological drama in a landscape whose sublime contours are most closely associated with the magical darkness of Lord of the Rings. There was clarity to the show's progress; its successive revelations amplified our understanding without devolving into moral carnage and communal outrage. The power is public and its violations are private, and Elizabeth Moss's pitch-perfect, down-to-earth performance as Robin grounds a script that might otherwise flail and drown in foggy despair. The thing about Robin's case — and Tui's — is that its very specificity, its isolation, protects the perpetrators. A single gang-rape fails to provoke horror. This is the essential loneliness of the rape victim. Robin's incomplete picture of what happened, her mistrust of Johnno, her inability to function normally — all this is what the Mitchams of the world count on. Top of the Lake seemed like a brutal ode to erasure, to lethal and perpetual uncertainty.
The last episode undid a lot of what I'd considered — up to that point — the show's exceptional portraiture of the ways in which the signs of violence are massaged away through ambiguity while the victim freezes from within. This is what the lake does; this was the power of the metaphor. By spiraling out into crime rings, the finale reduced Mitcham, a magnificent monster, attractive and sympathetic in the ways monsters need to be, to a confused drug lord. Even more tragically, it reduced Al's calm white-knighting — the quiet, solicitous misogyny that was the show's sharpest insight and greatest, most paralyzing triumph — to a neon sign of absolute evil. This show was so much better than its psychopathic solution. The psychopath is singular and exceptional and in every sense the opposite of the show's interest in hushed, generalized disease.
With that revelation the show stopped being a mythic exploration of the psychology of the raped and the accidental collusions that make that psychology invisible, and became something much less interesting: the story of how a rape-ring got busted. The show's commitment to ambiguity lives on, but in weird and uncompelling ways. The Robin-Johnno incest question got handled by a plot twist borrowed from Arrested Development: Yes they are! No, they're not! BUT THEY MIGHT BE. (Was Al lying about this too? Whose DNA actually got tested?). The fact is, it doesn't matter. This show's heart was never in the forensics, the paternity tests, the meth-roofie factory. Those, we'd been trained to think, were never the real questions, but symptoms of a diseased world where everyone's DNA is tainted by forces we don't understand.
¤
Jane: Best Episode (also Best Melodrama)
Enlightened, S2.E6
What's Todd Haynes up to these days? Last I knew, he was giving a talk in Vancouver, and now, I think, he's in the process of filming Carol? Haynes last big release was the HBO miniseries Mildred Pierce, which was in 2011. His last film release was I'm Not There, which was in 2007. Was I even alive in 2007? Todd, why must you make us suffer.
So it was both a relief and surprise to find that he was going to direct one of Mike White's episodes of Enlightened. It was titled "All I Ever Wanted," aired on February 17, 2013, and made all of us weep. People called it the best episode of the season, and I kept wondering if they would still say that even without the knowledge of Haynes's hand in the work. UM YES THEY WOULD STILL CALL IT THE BEST EPISODE BECAUSE IT OBJECTIVELY IS DON'T BELIEVE ME PLEASE TO WATCH RIGHT NOW. It starts off with this distant overhead shot, and immediately I was like "Oooooooooh. Draw me in, mysterious lurking camera angle/perspective!" And then immediately you're inside the car, on a purse! On a hand! Whose hand and where is it taking the purse? Oh my god, I can't wait to see what Haynes does to Patricia Highsmith's lesbian crime/road-novel Price of Salt (aka Carol).
Haynes knows how to narrate by way of exclusion, and while a lot of his films might seem excessive and lush upon first glance (Velvet Goldmine, Far from Heaven), the core of what he's doing, I think, is mining interiority by pointing viewers to what is absent, or what has been cut off. He's interested in what can't be said or properly articulated, and it's related to why he's so good at making us cry. There are a lot of uncomfortable pauses and missed opportunities in Amy Jellicoe's meetings with love interest Jeff, but really Amy's life is governed by her attempt to talk, or make herself present, where she ought to be invisible. White shined a light on such an impossible heroine, and we are so lucky that Haynes was asked to contribute.
If I had my way, Haynes would frame my life because he is just one of the realest, ballsiest formalists I know. And while I could link any number of shots or scenes here that exemplify this, all you really have to do is take one Google image to get the impact of his rigorous attention to framing. Try: "Todd Haynes, Safe, Julianne Moore," or "Todd Haynes, Poison." To get how Haynes's framing translates into story, though, is to watch these shots as they unfurl, widen, pan, or cut in a sequential manner. "All I Ever Wanted" is a beautiful and quick entrance into the power of Haynes's formal language. The last five minutes especially pack a punch; there's a moment where Amy's mother approaches her, hesitantly, as Amy is just on the verge of crying. They're in a bedroom, the camera is at a medium distant from the two women (almost as if protecting them from us getting too voyeuristically close), and while they try to negotiate their uneven relationship of sympathy and intimacy, not a word is exchanged.
¤