Phil: Mad Men 
I WON'T BELABOR this, because DearTV covered it at length in the spring, but this was a weird year for Mad Men. And I mean "weird" in both the colloquial and literal senses. Andy Greenwald — and, I'm sure, plenty of other people — have noted that one of the unsung defining features of the so-called Golden Age of 21st Century TV is that the bloody, serious serial dramas at its center were inevitably also among the funniest shows on air at the time. This has been especially true of Mad Men, but rarely has the show been as madcap as it was this year. Perhaps as a counterweight to the season's morose, death-hauntedness or as a nod to the Laugh-In vibe of the late sixties, this season was full of slapstick, camp, and sight gags. All of which made it the most perfectly GIFfable show on television by a wide margin. And that's not a small feat. A period show that speaks in the language of the present, a show that, even subconsciously, is built to suit the micro-aesthetics of the contemporary viewing audience. It's the kind of show I can and will continue to watch again, even at the local level, even on a loop. I've written many thousands of words on this stupid brilliant show. Please to enjoy the following wordless, indelible images in honor of a show I can't look away from.
(Many thanks to HuffPo's masterfully curated season six GIF archive!)
¤
LILI: BEST DANCES:
Enough said.
Mindy Project:
Brooklyn 99:
New Girl:
Orange is the New Black:
New Girl: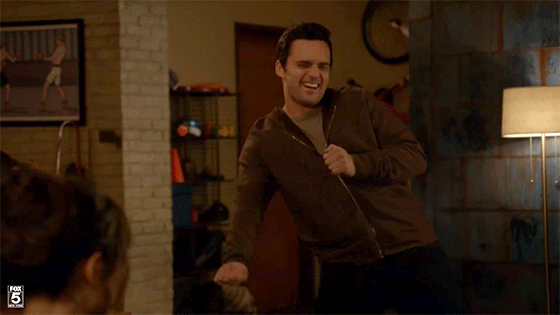 American Horror Story: Coven:
Late Night with Jimmy Fallon:
¤
AHP: Best (and Worst) Romance:
Both real and imagined, the best way to crystallize a romance = GIF form.  And as for the "Worst" — I'm waiting for that show to remedy / destroy each of those romances come Season Three.
New Girl:
Orange is the New Black:
Top of the Lake:
Scandal:
The Mindy Project:
30 Rock:
Nashville:
Veep:
Game of Thrones:
¤
WORST ROMANCE:
Girls:
¤