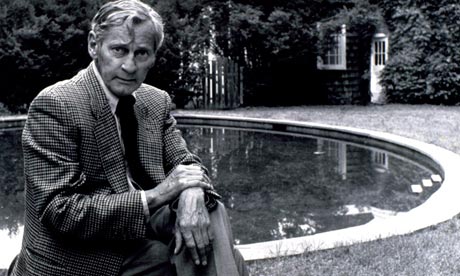 By Lee Konstantinou
When I started grad school, ten years ago, I was pretty cocky. I felt well-read, confident in my grasp of American literary history. The paradoxical effect of getting a Ph.D. in English is that it leaves you feeling less knowledgeable, less well read than before you start. This is mostly the effect of realizing how much there is out there, how much you'll never read, how many lifetimes you could spend studying one book by one author, let alone the great sweep of literary history. If you have any pretension to studying contemporary American literature, your task is that much more difficult. Hundreds of thousands of books are published every year in the United States, tens of thousands of novels. You could spend a lifetime just studying literary production in the year 2012.
Starting Friday, June 15, I will attempt — with the help of the good folks at the Los Angeles Review of Books — to fill one giant William Gaddis-shaped gap in my literary education. #OccupyGaddis will begin. Our goal will be to read Gaddis's classic 1975 novel J R, a book about the adventures of an eleven-year old stock whiz. The blurb of the new Dalkey Archive edition of the book describes the novel as
a biting satire about the many ways in which capitalism twists the American spirit into something dangerous, yet pervasive and unassailable. At the center of the novel is a hilarious eleven year old — J R — who with boyish enthusiasm turns a few basic lessons in capitalist principles, coupled with a young boy's lack of conscience, into a massive and exploitative paper empire. The result is one of the funniest and most disturbing stories ever told about the corruption of the American dream.
I approach Gaddis as a total neophyte. I haven't read his first novel The Recognitions, or anything else by him, but for reasons that'll become obvious, we've decided that J R is the best place to start.
As #OccupyGaddis continues, I'll be writing occasional blog posts here, and will ultimately compose a formal review — to mark the release of the Dalkey Archive edition of the book — after I've read the whole thing. Ideally, we'd like this reading to take on a life of its own. Write your own blog posts on your own sites. Tweet your impressions, frustrations, and questions using the hashtag #OccupyGaddis. I'll try to incorporate questions and comments from these Tweets into my blog posts and final review. We're blatantly ripping off this idea from Infinite Summer, the amazingly successful collective reading of David Foster Wallace's Infinite Jest that happened in 2009.
This summer seems particularly opportune to read J R, given that this is the first summer since the beginning of the Occupy Wall Street movement, and given that we're about to enter a crazy presidential election season in which the terrible economy, the crushing burden of individual debt, and Wall Street's role in our political life are going to be central questions (even if the official candidates refuse to speak on these subjects honestly).
Furthermore, over the last decade — as the abuses and depredations of the Bush administration have given way to, well, the abuses and depredations of the Obama administration — I've become increasingly convinced that U.S. fiction writers need to create more political art as part of a broader revival of political culture in the United States. There are some promising individual political novels, but we're far from having a vibrant political-artistic community. I leave the definition of the political open, but in reading J R I'm hoping not only to enjoy a great novel but also to find a model of the kind of books we need more of today, and to talk about why I think we need these books.
                                                                           ¤
Ready to sign up? Great! We knew we could count on you. First, get yourself a copy of the J R, either at your local bookstore, your local megachain, online, an unusually literate yard sale, or–you'd better hurry, before it's privatized–your local public library.
J R is a long book — 725 dense pages — but our pace will be relaxed. If you read an average of 10 pages a day, you'll finish by August 30. Here goes the tentative schedule I've set for myself:
June 29: pp. 150
July 15: pp. 300
July 31: pp. 460
August 15: pp. 610
August 26: done!
Easy, right? That's only 75 pp. a week, which'll leave you plenty of time to enjoy the summer weather, take a vacation, watch the new season of Breaking Bad and recover from the season finales of Girls, Mad Men, and Game of Thrones. As you read, you can refer to these annotations of J R, which will clarify who is speaking in the scenes we're reading, and explicate what's going on.
                                                                           ¤
I should conclude by mentioning, politics isn't the only question on my mind as I begin J R. It's instructive that Rick Moody's introduction in the Dalkey edition insists emphatically that the book isn't difficult to read. Difficulty was, let us recall, the charge leveled against Gaddis by Jonathan Franzen in his 2002 essay "Mr. Difficult." My worry that J R would require a huge mental and emotional commitment to read was part of what has kept me from starting J R, even though I've owned a copy for years. So as I read I will be asking myself: Is J R difficult? What makes a book difficult? Who is the imagined reader for whom this or that or any book can be said to be difficult? And what exactly is the matter with difficult books?
For me, it often feels that the most difficult thing in daily life is to sustain my focus for long periods of time, not because I don't have the capacity to focus but because my environment and its well-meaning inhabitants are constantly making demands of me, offering up noble and base and worthy and frivolous pursuits, all of which vie for my attention. Lately, I've tried to counteract this tendency toward self-dispersion. As it turns out, the relentless pace of modern life — its capacity to fracture attention — is itself one of the great themes of J R, and the subject of the New York Times review of J R by George Stade:
J R is a chaos of disconnections, a blizzard of noise. All the passages of narrative and description together would not add up to fifty of the book's over seven hundred pages. The rest is talk: conversation, monologue, harangue; voices on telephones, intercoms, radios, TV, sound tracks; the slang of schoolchildren and hipsters; the doublequackduckspeak of commissars, of law, science, business, PR, and education; the broken poetry of drunkenness and nervous breakdown–all interrupting each other.
If this review is right, J R is a book about our fragmented attention and a book designed to tax our capacity to pay attention–to demand higher and deeper kinds of attention from us–in a world imaged to be (both in 1975 and today) a kind of conspiracy to keep us from focusing on what's right in front of us. The great virtue of collective reading projects is that they give us an occasion to work together to help us sustain our attention, to achieve goals we might have thought too difficult to attain working on our own. So let's get going — with a chaos of connections, a blizzard of studied silence, a whirling vortex of intense, collective focus.